Diamond Creek Luxury NC Community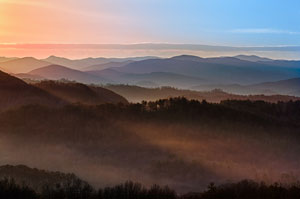 Diamond Creek Development offers an extremely private, low density development to its members. Land ranges from approximately four to ten acres in size and $700,000 to $3.5 million in price. With provisions such as round-the-clock Protective Services, Property Maintenance, Trash Removal, Road Maintenance, and Off-Season Home Inspections, life at Diamond Creek is simple and care free. It is imperative to know all homes at Diamond Creek have been designed and built with thorough covenants and restrictions, design regulations, an architectural review board, and an inspection process in place. This regimen along with superior craftsmanship ensures every home is completed to the highest standards of construction and provides a lifetime of enjoyment. We look forward to working with you and showing you any real estate which may interest you as well as further explain all the fantastic happenings at Diamond Creek.
Luxury Homesites in Diamond Creek
Diamond Creek Development consists of over 1,000 of the most pristine acres one can imagine. With approximately forty-five spectacular home sites within our gated community, each parcel of land generally offers vistas of northwestern exposure providing long-range views and breathtaking sunsets. Our real estate plan is for a low-density development that allows for a neighborhood environment with the privacy one expects when considering a mountain home. Owners, land planners, and engineers have spent countless hours walking every foot of the property prior to platting lots. This is to make certain each designated home site is perfectly located to capture views, provide privacy, and create a sense of ebb and flow within the Village. Rather than clear-cutting the site and creating the view prior to construction of a home, Diamond Creek's approach is one that is more sensitive and environmentally conscious. We work with the homeowner during the design phase to ensure the home is situated on the site effectively to obtain the best possible view with the least impact on the forest. The goal is to create intriguing views through the native vegetation leaving the canopies intact. Thus, the Mountain we call home carries on and remains protected without compromising the overall integrity of the area. We strongly believe we have an obligation to protect and preserve what was left before us and not undo something overnight that took nature hundreds of years to create.