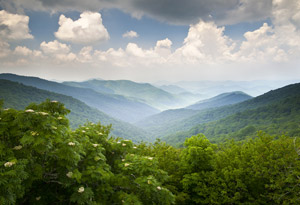 What would this sophisticated resort town be without a ski resort? Blowing Rock, North Carolina features its very own ski resort, Appalachian Ski Mountain. In fact, the neighboring towns add two more ski resorts to the High Country's inventory, providing residents and visitors with a total of three places to hit the slopes. Ski Beech of Beech Mountain and Sugar Mountain of Banner Elk are the alternatives. It's no wonder Blowing Rock is a favorite destination, especially in the winter. The best part is if you're looking to relocate to Blowing Rock, you'll live within a short drive to the mountain, or maybe even within walking distance.
Whether you've never stepped foot on snow wearing anything other than everyday shoes or you're a genuine ski bum, App Ski Mountain welcomes you. Boasting a friendly staff and plenty of lessons, anyone can learn how to ski or snowboard at App. There are plenty of trails for skiers and boarders of all levels. Also on site are a nursery, restaurant, ski shop, an ice skating rink, and of course, rental equipment. You, and the whole family, could easily spend an entire day here without a care in the world.
One thing that goes hand in hand with ski resorts is winter, and this is a season Blowing Rock does right. Thanks to the high elevation and terrain the Blue Ridge Mountains afford, Blowing Rock is an ideal location for a winter wonderland. No wonderland would be complete without slopes. Even those who generally don't like snow may find they enjoy it underneath skis.
Appalachian Ski Mountain's season typically runs from mid-November to late March. They're open from morning to night, with extended hours over the Christmas season. Check out the sights from their web cams if you can't be there in person.
Browse properties for sale close to App Ski Mountain if you want to be near the action.