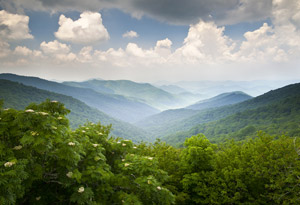 Blowing Rock NC weather is a beautiful spectacle of all four distinct seasons, together with its high altitude. It's an attraction in itself, believe it or not, and draws visitors to the resort town and surrounding areas year round. Some residents choose to live here because of it, and others choose to vacation here because of it. If you're considering relocating to Blowing Rock, you'll be pleased to find out more about its weather that so many love to love.
Winter weather affords a wonderland of fun on the snow, and a pretty canvas of glistening white. The average temperature lingers near the mid-30s, and snowfall tops off just under 40 inches a season. If you enjoy the slopes, there are plenty of listings near Appalachian Ski Mountain.
Spring weather arrives just in time, so winter weather doesn't overstay its welcome. Temperatures are typically mid-to-late 50s, low 60s, and allow the attractive wildlife to establish its presence. From the rhododendrons to the rain, it's a peaceful time in the High Country.
Summer weather raises the thermometer just slightly, capping off around 80 degrees. The mountain breeze makes it a delightful destination for those who live in distant, warmer areas. Whether you spend your sunny days golfing or rocking on your front porch, you won't want to be anywhere else.
Fall is a fan favorite. Weather during this cherished season appeals to everyone, no matter their age, interests, or situations. Not too warm and not too chilly, you'll be just right – paying no mind to the ideal temperature because there is so much that it affords. Marveling at the colorful leaves, hiking in shorts, and sitting in front of your crackling fire could all be in a day's work.
You can read about Blowing Rock NC weather all day and still not truly know what it's like. You have to experience it to appreciate its indescribable nature. If you're browsing real estate in the High Country, the opportunity won't be far away.