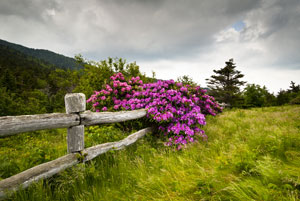 Area residents and visitors alike enjoy shopping at the Blowing Rock outlets. After one trip alone, many vacationers add the Tanger Outlets as a "must do" destination for subsequent visits. For those who want to have a simple getaway that doesn't cost a fortune, you may want to steer clear of these stores. At the same time, the prices are great, with attractive deals happening week after week. If you're considering investing in a property in or around Blowing Rock, you'll be happy to know about this retail attraction.
As if there isn't enough to love about the High Country without the collection of stores, you'll appreciate having easy access to the property. The directory includes Coach to Rack Room Shoes, Banana Republic to Sunglass Hut, Kitchen Collection to Vitamin World. With just enough eateries (Subway, Cheeseburgers Grille, and Kilwin's), children's rides, bathrooms, and benches on site, you could easily AND comfortably spend a whole day there, grandma and baby, too. They even have strollers for rent.
The outlets are open seven days a week, with extended holiday hours. Don't miss checking their website before taking a trip to check for coupons, sales, and fun events.
Not to worry, though; this isn't the only place for shopping. If you're looking for a more unique shopping experience, you'll greet Main Street of Downtown Blowing Rock with open arms and an armed pocketbook. There are a ton of upscale boutiques and specialty shops that line the street. Landscaped gardens and inviting doorsteps will make any shopper feel at ease.
Once again, this isn't the last of it. You'll find other stores throughout the town and on your way out off of Highway 321. Whether you take away a needed kitchen appliance, a handmade necklace, gifts for the family, or nothing more than a day of browsing, you'll delight in Blowing Rock's shopping opportunities.
In just a quick property search, you could pinpoint all real estate close to the Tanger Outlets or Main Street.