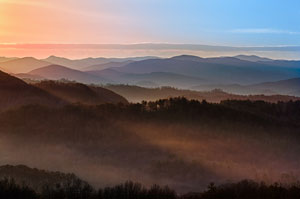 The incredible thing about the homes for sale in North Carolina mountains boils down to the connectivity of each community within the high country. From the front door of your new luxury mountain homes in the development of Echota, you can look across to the opposite ridge and see the profile of one of the most distinct features the North Carolina mountains have to offer—Grandfather Mountain. Your view extends out to capture mountains surrounding the Boone area as well as the Banner Elk and Beech Mountain NC real estate area connecting you to countless attractions and opportunities in either direction.
The neighborhood of Echota adds to its worth and location by creating a centrally family oriented atmosphere with multiple amenities such as backyards with activities, a club house for each development location (Echota and The Ridge), fishing holes, fitness centers, indoor and outdoor pools, as well as a riverpark and easy access to hiking trails nearby!
The riverpark open to all Echota residents is a singular characteristic of this location. The Bryan Booe Memorial Riverpark is just across from the front entrance of Echota on Highway 105 with the Watauga River running through it with full access for your pleasure. Walking trails wind around the wooded trails for a mile and there is a picnic shelter for groups to gather and grill. In addition, a small rec area is available for whatever you and your friends and family could come up with. Everything from bocce ball with your family to tag with the kids to touch football with some old friends can be easily picked up at this private, cozy park.
Indoor gatherings can be held within the Echota clubhouse. This timber-framed structure allows residents to hold large family get-togethers as well as intimate discussions with a few people. There is a kitchen, a double sided stone fireplace, vaulted ceilings, and large walls of windows that look out over the private fishing pond. In addition to a few small nooks for reading and a flat-screen TV for your entertainment, the club house also contains the indoor pool, locker rooms, and the fitness center.
This intimate, private community with everything from gathering spaces to a fully stocked fishing pond provides every sort of resident with anything they could want in a neighborhood. Also, as you're searching for Banner Elk homes for sale, you'd naturally want to find a place relatively close to stores and restaurants. Have no fear! Our properties for sale are centrally located and at the same time, make you feel like you have your own secluded luxury mountain homes oasis.