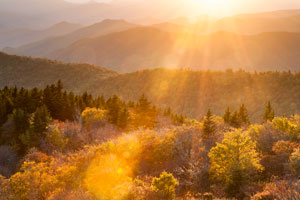 Welcome to Grandfather Golf and Country Club, your connection to a lifetime of fond memories.
As you drive over the bridge, beneath the grandeur of Grandfather Mountain, the lake is calm, a few boats are out, and children are splashing happily on the beach. This is the road to family, friendships and camaraderie, where traditions begin.
Nestled in the heart of North Carolina's majestic Blue Ridge Mountains in Linville, N.C., Grandfather Golf and Country Club is a private club community, owned exclusively by its membership. While the Club grew from a golf heritage dating back to the late 60s, its breathtaking location, rich amenities, and social, artistic culture continue to elevate the family experience — the vision on which Grandfather was founded. Charming homes, spectacular surroundings and lifelong friendships are immediately evident. Yet, they are just the beginning of the Grandfather story.