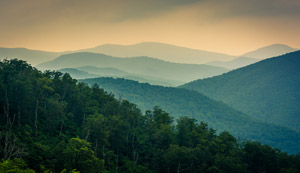 Whether you live in Banner Elk or Blowing Rock, Julian Price Memorial Park won't be too far away for you to visit on a sunny afternoon. Similar to Moses Cone Memorial Park, this property was also created by a wealthy individual and later bestowed to the Blue Ridge Parkway. What was once enjoyed by private employees is now available for local residents and visitors alike to revel in.
Fishing, boating, hiking, camping, and simply delighting in the natural surroundings are cherished activities at Julian Price Memorial Park. Whether you visit with your family for some fun under the sun or by yourself for some peace and quiet, you'll appreciate what this park affords. With almost 4,000 acres to explore, including a lake, it's a sight to see.
Blowing Rock is about 20 minutes away, just a scenic drive along the Blue Ridge Parkway. If you're considering relocating to this area, you'll be pleased to know about this estate. The Mountain Group at Premier Sotheby's International Realty will be happy to introduce you to homes for sale that put you within easy access to the Julian Price Memorial Park, along with many other local attractions.
The High Country has much to offer in ways of a gratifying lifestyle. It's a recreational paradise and one that attracts the interest of many buyers. Let us show you an even bigger picture, a more comprehensive overview of where you'll eat meals out, what you'll do for fun, and why you'll love calling Western North Carolina home.
Our site also features an inclusive list of real estate for you to browse. You can utilize our resources to make informed decisions, and we'll be there to guide you every step of the way. From a house that meets your needs and wants to Julian Price Memorial Park, we'll take you on a tour of Blowing Rock, NC and beyond.