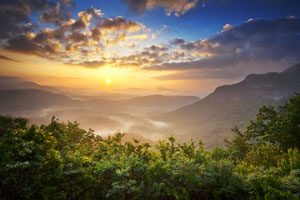 The upscale communities on Lake James present luxurious lakefront living. Lake James is a large reservoir located ideally between Asheville and Charlotte amongst the foothills of the Blue Ridge Mountains of North Carolina. With over 150 miles of shoreline, the communities are comfortably situated without consuming the natural environment. Old Wildlife Club and 1780 are two prestigious communities whose homes and sites we feature.
Old Wildlife Club is across the water from the activities center, offering larger home sites in a peaceful setting. This area was once popular hunting ground, while it's now a habitat for deer, red foxes, turkey, and other wildlife who coexist within the community. Residents enjoy majestic views, a community dock, and a network of hiking trails.
1780 is on the southern shore featuring smaller sites that are conveniently located near the amenities. The lively atmosphere is little more fast-paced than that of Old Wildlife but the option is still there to retreat and unwind. The name of the community comes from "the year the patriots marched through the area to victory at the Battle of Kings Mountain" and is a great place to call home for those who value the sense of neighborhood in a development.
Both developments enforce no building time restrictions or minimum requirements. If you see your future at Lake James, search for an available property or call us today.