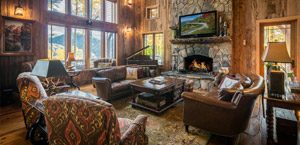 Even the most discerning buyer will appreciate the fabulous choices of luxury homes in NC. Having access to the most complete and correct data plays a significant role in your North Carolina real estate home buying or selling experience and outcome. Our site features a comprehensive list of all available properties in the region and allows users to easily pinpoint homes that meet their criteria. Whether you define "luxury" as over $1,000,000 or according to amenities, you can browse all filtered options in just a few clicks. You'll discover an attractive selection in the High Country market at all prices levels, so explore until your heart's content.
Some luxury homes are atop mountains, others nestled in valleys, some are in town, while others would appear to have their own zip code. You'll read property descriptions that boast unrivaled long-range views, chef's kitchens, privacy at its finest, custom craftsmanship, architecture, the latest and greatest in niceties, and tiered decks perfect for entertaining. One thing goes without saying; they'll all have ideal locations, as the area appeals to residents and visitors of varying interests. It's a place of comfort, peace, frill, fun, recreation, and beauty. Between the neighboring towns, you'll have everything the High Country has to offer to afford a luxurious lifestyle.
When it comes down to the style of home, there's no limit. A country estate, mountain chalet, and deluxe condo on the outskirts of town may all embody someone's dream property. Do you value square footage over land? What makes a home stand out to you? Addressing these questions together will enable us to house hunt more efficiently. As experts of the industry, we know luxury when we see it, but it's essential to be looking through the same lenses as our clients, or it's all in vain.
The Mountain Group at Premier Sotheby's International Realty invites you on a tour with us of luxury homes in NC in pursuit of the one that incarnates your opulence.