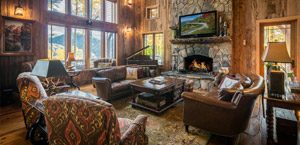 There is something openhearted about a log cabin. If you can't quite grasp that perception, then you've most likely never visited or driven through Western North Carolina. Those who have, they know the unexplainable truth behind it, whether they've experienced it firsthand or merely witnessed it. Let The Mountain Group at Premier Sotheby's International Realty take you on a tour of luxury log cabin homes and afford you the opportunity to feel that open heartedness.
It's the combination of earthy colors, strong textures, and classic look that does it. Then you add in the authentic mountain settings of our region and the rest is history. Potential buyers from around the globe can rarely resist the look of a charming log home in the High Country. Log homes for sale in Banner Elk, Boone, Blowing Rock, and beyond are excellent investments, whether you're a first time buyer or a seasoned investor. Our area offers you a premium selection of log homes for sale and in a variety of attractive locations.
The Mountain Group at Premier Sotheby's International Realty can guide you toward discovering the cabin with an architectural style you'll love and appreciate. From expansive castles with tiered decks and long-range views to storybook cottages set back in the woods along streams, you'll see every option under the sun. Houses with rustic finishes, modern touches, and everything in between comprise the local market. The beauty of our Blue Ridge Mountains is paramount and creates the picture-perfect backdrop for your log home. It'll be a sight you never tire of seeing. Browse the available properties and catch a glimpse of the splendor. On our site, you will find luxury log and timber homes for sale, in addition to an array of mountain real estate. With just a few clicks, you could be looking at your impending cabin. Let your future unfold.