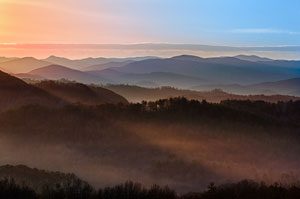 The magnificent Blue Ridge Mountains of Western North Carolina create the most exquisite backdrop for luxury log homes, and you won't find a better selection for sale anywhere else. The Mountain Group at Premier Sotheby's International Realty is large enough to be a big player in the realty industry, and small enough to specialize in the region's finest properties. With our office in Banner Elk, we live and experience our life's work every day. We're a part of the area and know what we're selling beyond the property description.
Our site features available homes and land across various price ranges, with designated categories for the discerning buyer to easily pinpoint their real estate of interest. Though we include every property on the market,
we've made it simple for visitors to seek out luxury real estate, both homes and parcels of land that are considered to be some of Western NC's grandest.
When browsing the selective list, you'll see not only the luxuries you desire but many you may not have even known existed. From outdoor comforts like a fireplace on a deck to a prime ski-in, ski-out location, these grand log homes come in several shapes and sizes. Nestled throughout the High Country to Asheville and in between, the settings are ideal, providing the ultimate mountain living. Find a stunning recreational utopia as you see all that the region offers with every distinct season. Golfing, hiking, or time on the slopes could be your new pastime on account of what could be your future home, vacation home, or investment property.
Luxury log homes for sale is an incredible market to frequent if you're looking for the opportunity of a lifetime. Let The Mountain Group at Premier Sotheby's International Realty guide you to the prestigious property that you've been looking for in all the wrong spots, until now. Your exclusive cabin awaits.